One of Lou Reed's lasting legacies -- besides founding The Velvet Underground and introducing the world to the depths of feedback loops -- will forever be his impact on the way the world sees bananas.
The late singer, who passed away of a liver-related ailment this weekend, helped popularize one of the most recognizable pieces of pop artwork -- a bright yellow piece of fruit that adorned the cover of The Velvet Underground & Nico's debut album.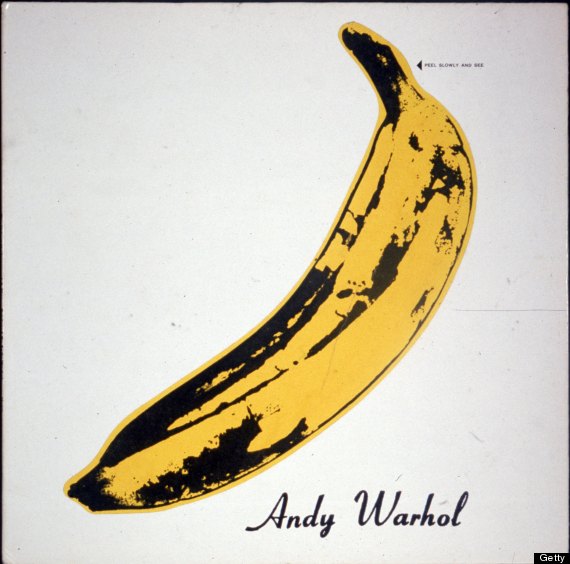 The banana itself is, of course, the handiwork of Andy Warhol, who crafted the image and slapped it on the cover of his pet band's first record in 1967. Warhol served as the manager and patron saint of the now iconic art rock band that surprisingly sold just 30,000 albums in its first five years.
The original album cover allowed fans to peel back the banana skin as a sticker, revealing the fruit of a nude-colored banana underneath. The sexually-charged effect was difficult for manufacturers to pull off (the time it took to perfect the peel was part of the reason behind the album's delayed release), but MGM deemed it warranted, since Warhol's stamp of approval was bound to go far in the 1960s.
"He just made it possible for us to be ourselves and go right ahead with it because he was Andy Warhol," Reed once said. "In a sense he really did produce [the album] because he was this umbrella that absorbed all the attacks when we weren't large enough to be attacked."
Alas, the record was hardly a commercial success. It was only in the decades after VU's breakup that the band became a cult favorite, transforming their vintage peel-off sticker album into a rare collector's item and a symbol for the protopunk genre. In fact, nearly 50 years after the release, the band and the Andy Warhol foundation would battle over who reserved the right to market the now-coveted banana as their own.
To honor Reed's association with pop art history, we're showcasing the banana's ever-present influence on the world of contemporary art. Scroll through the images below to see how 22 contemporary artists commissioned by Société Perrier reimagined the fruit today.
Ben Montero Commissioned by Société Perrier

Darwin Rodriguez Commissioned by Société Perrier

Izzie Klingels Commissioned by Société Perrier

Amanda Manitach Commissioned by Société Perrier

Ryan Humphrey Commissioned by Société Perrier

Ashley Lande Commissioned by Société Perrier

Grady Gordon Commissioned by Société Perrier

Ben Branagan Commissioned by Société Perrier
We'll leave you with one of the more praiseworthy reviews of The Velvet Underground & Nico's album, straight from the typewriter of The Village Voice's Richard Goldstein in 1967: "The Velvets are an important group, and this album has some major work behind that erect banana on the cover."