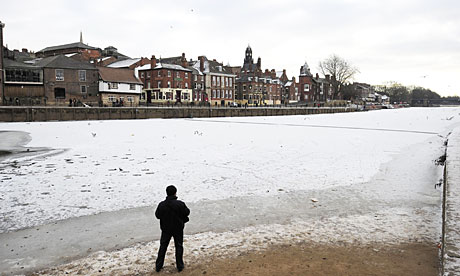 Christmas Day got off to a freezing start across much of the country as overnight temperatures dropped to as low as -18C.
Some areas enjoyed a traditional white Christmas, with snow falling in Edinburgh, Glasgow, Aberdeen and north-east England, but the bookies were saved from paying out in most areas.
Most parts of England, Wales and Northern Ireland were sunny and dry but daytime temperatures were set to remain below freezing.
Overnight, the mercury dropped to -18C at Altnaharra in northern Scotland and -17C in Worcester. Met Office forecaster Michael Lawrence said the forecast for tomorrow was "mostly dry, bright and fine".
"It's becoming milder, and that is the theme for the next few days," he said. "We're in a less colder blip, but it's still below average for this time of year."
While roads were largely deserted today, the Highways Agency advised motorists to continue to take extra care and be mindful of difficult driving conditions.
Heathrow airport, which came under fire for the number of cancellations caused by the severe weather conditions earlier this week, is expecting to handle some 70,000 passengers on 600 flights today, with only a handful of cancellations.
"There are no snow-related delays today, apart from any cancellations to other airports that aren't open," a spokeswoman said. "As an airport we are operating fine."
Eurostar is shut for Christmas but will reopen tomorrow, with four cancellations out of 45 trains.
Elsewhere in Europe, hundreds of stranded travellers spent Christmas morning in European airport terminals after sleeping overnight on camp beds as icy weather grounded flights out of Paris and Brussels.
Flight schedules were returning to normal in Paris, thanks to fresh deliveries of de-icing fluid from Germany and the US to get planes off the ground, but many people were still set to miss Christmas dinners at their destinations.
Airports were mostly back to normal although there were cancellations in Frankfurt and Zurich. Several hundred people slept in Paris and Brussels airports on Friday night.
The AA said call-outs in the UK yesterday were almost 40% above normal due to last-minute Christmas shopping and getaway traffic.
It covered more than 12,500 breakdowns by the end of the day compared with just over 9,000 on a normal Friday.
Police and coastguards were called to help a number of drivers stuck in cars yesterday after a snap blizzard hit the Whitby area of North Yorkshire.