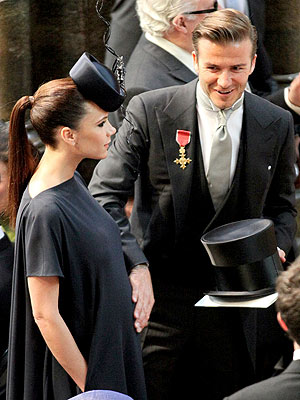 Royal Wedding
– and both cutting dramatic figures – were
David
and
Victoria Beckham
. The couple were initially spotted walking into Westminster Abbey around 9 a.m. London time, and TV cameras caught them sitting in their proper pew not long after.
They were not hard to miss. A ponytailed Victoria, 37, was sporting a navy Philip Treacy pillbox hat and a dress of her own design, svelte and also blue, while an exceedingly well-groomed David, 35, in a Ralph Lauren gray suit with matching tie of a lighter shade, had his Order of the British Empire pinned to his jacket lapel. He also carried a top hat.
"Today's ceremony was beautiful and heartfelt," the couple said in a statement. "Catherine looked wonderfully elegant and we were honored to be part of such a special, historical day for our country. We wish Catherine and William much love and happiness for the future."
Reports say that rather than presenting Prince William and Kate Middleton with a present, the Beckhams contributed to the royal couple's charities. The day after the wedding, David jets to Dallas in anticipation of his L.A. Galaxy Major League Soccer team's Sunday game against FC Dallas at Pizza Hut Park. Quite a leap from the Abbey.
– Stephen M. Silverman
David Beckham
From the PEOPLE TV Archive